San A Bel Towers Amenities
San A Bel invites families to experience quality time on the oceanfront. From the oceanfront indoor swimming pool to the sun deck's hot tub and pavilion area, San A Bel encourages family time and togetherness. It's easy getting to the beach from your San A Bel vacation condominium and parking could not be more convenient so getting your North Myrtle Beach shopping treasures and luggage to your vacation condo from your car is a snap. An on-site fitness center enables you to maintain your workout regime during your North Myrtle Beach vacation and the comfortable accommodations at San A Bel are filled with conveniences, such as high-speed Internet, DVD player and some units feature a Jacuzzi tub. Make San A Bel your next North Myrtle Beach, South Carolina vacation rental.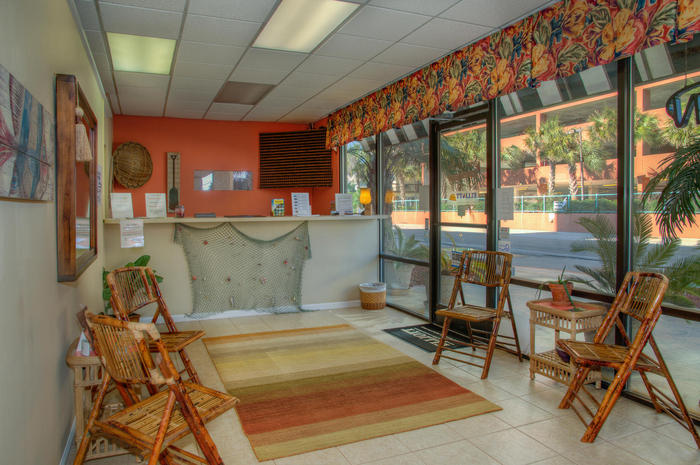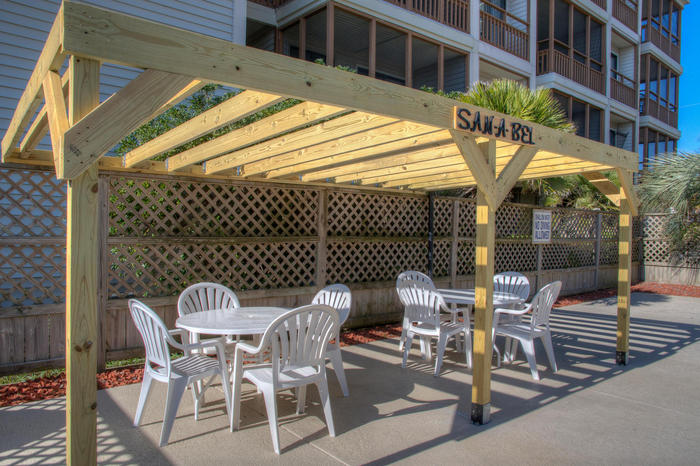 Sleeping Accommodations
Up to six people are nicely accommodated in each of the San A Bel oceanfront vacation condos. With two private bedrooms and two full baths, there is plenty of space for a family to spread out and enjoy your time at the beach. Unpack and take advantage of all the storage space at San A Bel. The living accommodations are beautiful and comfortable and the oceanfront views are unforgettable from the master bedroom and living room of the San A Bel condominium rentals in North Myrtle Beach, South Carolina. Wake each morning of your North Myrtle Beach vacation to an oceanfront sunrise. You'll have the choice of watching the sun peek over the Atlantic Ocean's horizon from your bedroom or from the oceanfront balcony. Most of the North Myrtle Beach vacation condo rentals at San A Bel feature numerous televisions—generally with at least one bedroom furnished with a TV and oftentimes a DVD player. You'll sleep like a baby when you vacation in the comfort of a San A Bel condo rental.
Condominium Furnishings
The San A Bel condominiums are furnished with everything you need for a fabulous North Myrtle Beach vacation. The oceanfront location makes the balcony even more important because it is a welcome extension of the well furnished living room. Suitable for relaxation, enjoy a snack or a late afternoon cocktail on the breezy balcony of your San A Bel vacation condo. There is high-speed Internet access available at this oceanfront resort and most of the units feature several televisions and DVD players. Rent a movie during your North Myrtle Beach stay and don't miss the big game when you are on vacation in North Myrtle Beach. The kitchen is well equipped in each of the San A Bel condominiums so you can make yourself at home, just like you would in your own home. Featuring a dishwasher, full-size appliances and a microwave, the kitchens are perfect for a North Myrtle Beach vacation getaway. Also furnished in your oceanfront condominium rental are a washing machine and clothes dryer. Laundry is easy during your vacation stay at this North Myrtle Beach vacation rental!
Oceanfront Location
Vacation in North Myrtle Beach, South Carolina and bask in the oceanfront location of San A Bel vacation condos! Boasting oceanfront balconies, an oceanfront sun deck with a hot tub and easy beach access, staying oceanside could not be easier. There is a grill provided for you at San A Bel so your family can host an oceanfront cookout, complete with fresh seafood and picnic favorites. The swimming pool overlooks the oceanfront, as does the San A Bel fitness center. San A Bel is not only on the North Myrtle Beach oceanfront, but it is also a vacation condo complex that is conveniently located near all the famous Myrtle Beach attractions—Sea Doo rentals, parasail rides, live entertainment theatres and roller coasters. And this oceanfront location puts the golfers in your family close to more than 100 Myrtle Beach golf courses.

Swimming Pool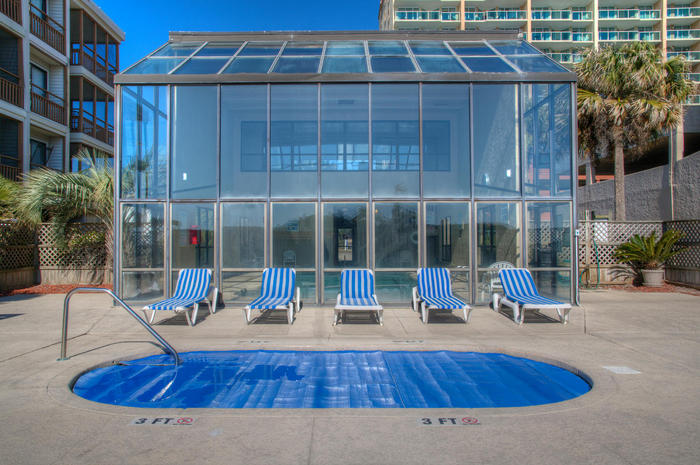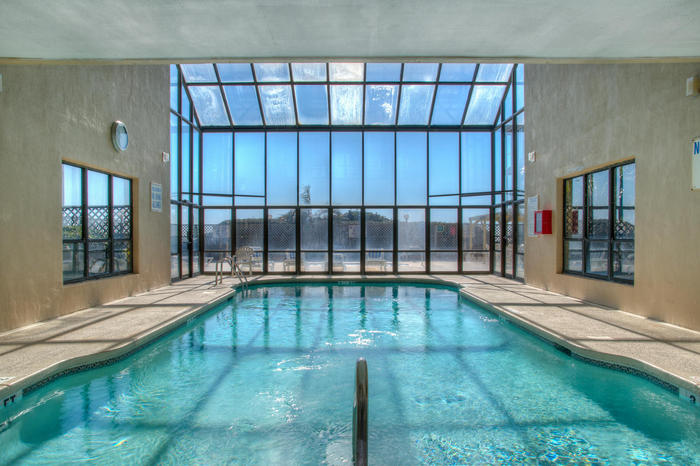 On the ground level at San A Bel, yet under a roof that is partially made of glass, a beautifully enticing swimming pool awaits your arrival. Perfect for year-round use, the indoor swimming pool at San A Bel is an inviting North Myrtle Beach condo feature. Splash and play in the indoor pool, while still enjoying the outside's views. An exceptional wall of windows that is larger than life allows for beautiful views of the oceanfront. The sun has no problem shining into this interior space because part of the ceiling is glass, too. You'll feel like you are outdoors, with the protection of being under roof when you swim at San A Bel. Just beyond the sparkling blue swimming pool is the hot tub. Spacious in design so as to accommodate a nice group of people, the San A Bel hot tub is located outside on the oceanfront sun deck.
Beaches
Come to North Myrtle Beach for the beautiful beaches! The San A Bel condominium rentals look right across the white sandy beaches to the Atlantic Ocean, which glistens in the Myrtle Beach sunshine. It's a gorgeous vacation setting that makes for ideal vacation living. Explore miles and miles of North Myrtle Beach oceanfront where waves lap at the beach and beach chairs are nestled in the sand. Bring a good book and catch up on some reading when you relax and sunbathe on the North Myrtle Beach oceanfront. Seashells adorn the soft sandy beaches and are terrific treasures to take home as mementos of your special beach vacation. Sculpt a sand castle fit for a king and explore the nearby shallow waters of the ocean for sand dollars and starfish. Whether you're playing games on the sand or diving below the ocean's surface, the beach in front of San A Bel is a fantastic setting for picnics, long walks and quality family time.
Fitness Center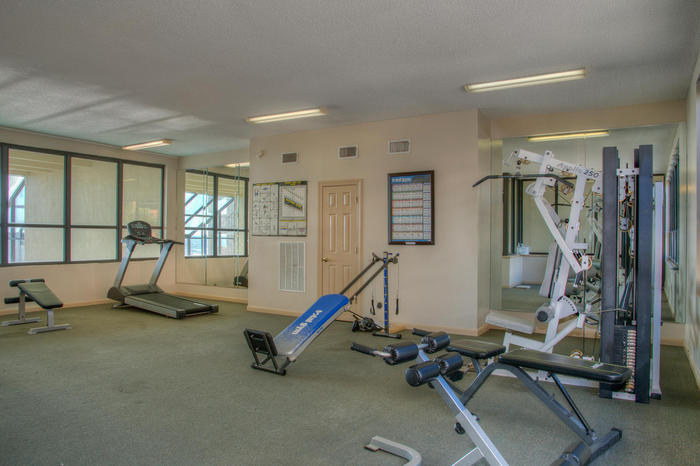 The San A Bel fitness center boasts a unique design in that it overlooks the indoor swimming pool through a wall of glass. The knee-high windows reach all the way to the fitness room's ceiling and offer views of the indoor swimming pool, as if it was a mezzanine or loft. Do some cardio exercises or strength training on the fitness machines provided for you in the San A Bel exercise room and keep an eye on the swimming pool one floor below as you look through the fitness center's windows into the indoor swimming pool deck. The wall of windows also gives you the option of seeing the Atlantic Ocean through the pool's window wall. When you're trying to work in a work out while enjoying your stay at San A Bel, rest assured that the oceanfront view will be gorgeous—perhaps making you forget a little about the pain, so you can experience a little more gain.
Laundry
Wouldn't it be great to have a washing machine and a clothes dryer at your fingertips when you vacation at the beach? There are more than 60 miles of white, sandy beaches in North Myrtle Beach and a long list of fun activities and amusements and you are bound to need laundry facilities. San A Bel conveniently provides a washer/dryer unit in
the vacation condo rentals so you can spend more time doing what is fun in Myrtle Beach and less time tackling laundry. Toss a load in the washer and then go for a swim in the ocean. What can be more convenient than that?
Kitchen
San A Bel's innovative design incorporates a small kitchen with a full-size refrigerator and a full-size stove and oven. There is a microwave in the San A Bel vacation condo kitchens so can snack on popcorn and eat the leftovers from the meal the night before. Keep your drinks nice and cold without worrying about keeping ice in a cooler. The San A Bel kitchens are perfect for making coffee first thing in the morning when you just wake up and want to watch the sun rise pierce the darkness of the sky. Prepare a picnic lunch to take to the beach or to take with you as you head out to explore all the fun and excitement North Myrtle Beach offers.
Property Location
Location: Oceanfront
Area: Crescent
1709 South Ocean Blvd
888-617-5717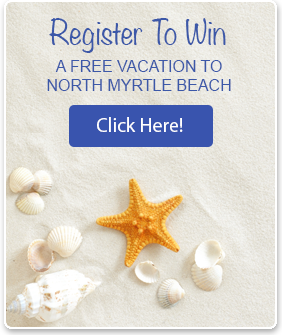 Disclaimer
Elliott Beach Rentals is not affiliated with onsite management or the HOA of this complex.